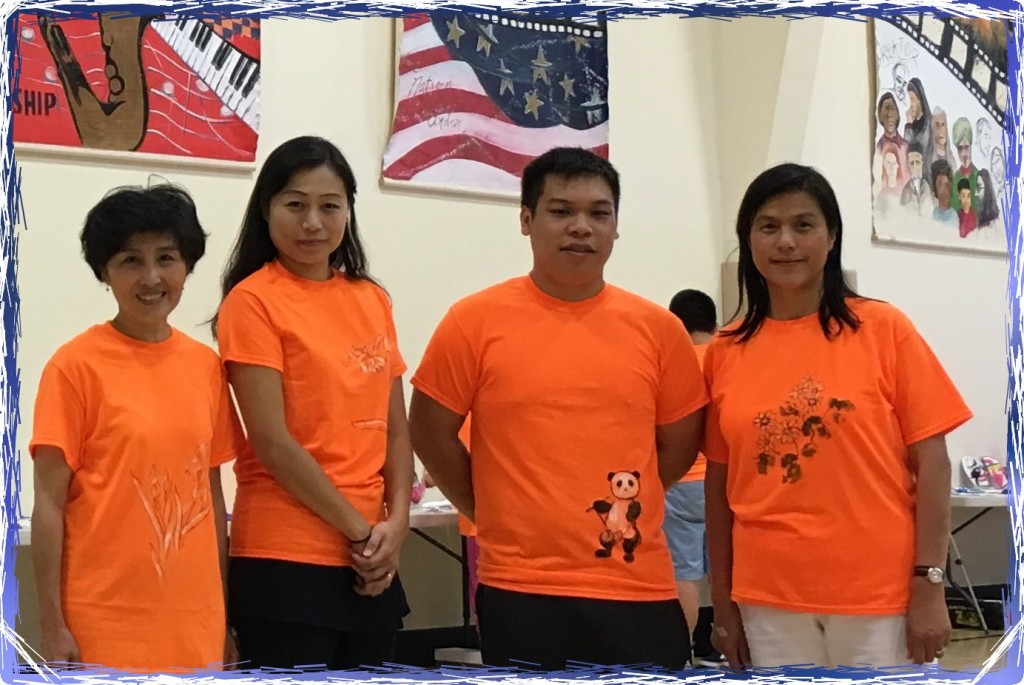 國畫: Luh Jang Chen 陸璋/體育Chih-Lin Ho 何致霖/舞蹈:Yi Chun Yeh 葉怡君/工藝:Angie Chien -Fu 簡信華
Dear 2016 GPACLS Summer Camp Team members,
It has been a great honor to serve with you on this years' summer camp held at the First Baptist Church of Eugene.  This camp started with the planning effort back in November of 2015 from every association board member.  And finally, we had a very successful camp back in the week between August 7 and August 14 this year.  But the major effort came from the association's current President JenJen Hwang, association past President Luh Jang and myself.  We visited the potential camp sites, negotiated facility costs, figured out camp logistics and planned for the camp member's recruitment.
In addition to the association board members' effort, we also appreciate the effort coming from volunteers, like the past association President Daphne Kao for her volunteered time in showing the instructors from Taiwan the beautiful surrounding of Portland; camper parent Kathy Huynh for her photography, movie making skills and her effort at the folk dance classroom and final performance controlling sound equipments; the Portland Chinese School past extra-curriculum Chair Jessica Backeberg and the West Vancouver Chinese School Principal/association current Vice President Amy Tenbrink for their dedication and creativities in preparing and serving the whole camp's snacks, drinks and lunch; and Kathy Huynh's husband, Mr. Tuyen Tran for his generosity of loaning and driving his 15-people van to carry campers' luggage at the end of the camp; camper parent Katrina Ang for her dedicated assistance at the folk art classroom as well as the campers' parent Pei-Chun Tsai for her overall assistance throughout the camp.  I would also like to thank the Portland Chinese School's teacher Ming-Chia Hu's assistance in gathering important teaching supplies for the folk dance class.
The camp's success owes gratitude to ten student counselors and two assistant student counselors.  They are student counselors Maryanne Tran, Ryan Wong, Jim Yang, Lawrence Takemoto, Jeffrey Liao, Mark Shum, Logan Takemoto, Richard Lee, Pai-Hui Chang and Rabby Sung.  The assistant student counselors are Rayen Lee and Jason Wong.
And of course, the kind and helpful staff of First Baptist Church of Eugene's agreement in providing their excellent facilities and excellent attitude in making our camp a great success!  I would like to extend my gratitude to the church's facility manager, Rich Minkler and his staff, Facilities Lead Daniel, Reese, Bill and Gus as well as others that help set up the classrooms and the performance stage for the camp.  And most importantly, I owed a great deal of gratitude to the Pastor Paul Herriot for his God like warmth and kindness.
And we also appreciate the OCAC of ROC (Taiwan), TECO Seattle Cultural Center Director Yen, Mrs. Yen and the education affair managing staff Diana Liao for their effort of making a five and half hour trip from Bellevue to Eugene to visit the camp and to bring appreciation gifts from the TECO Seattle Office Director Chin to the volunteers.   Thank you.
Sincerely,
John Lyou
2016 GPACLS Summer Camp Director

Posted in Summer Camp夏令營 by gpacls with

comments disabled

.