East meets west: Chinese your way (July 7th)
Ever wanted to learn Chinese, but felt you needed 10,000 hours of practice and a tiger mom to learn it?  Now is a time to debunk the myth of learning difficult languages.  Chinese your way is taught through an art medium, you being the artist.  Students will be guided through a series of projects including historical to modern Chinese calligraphy written on scrolls, Chinese painting sewn onto sustainable bags, and Chinese cultural song performances.  All projects including videos of performances can be taken-home at the end of the program.  Learn to express yourself through the language of Chinese.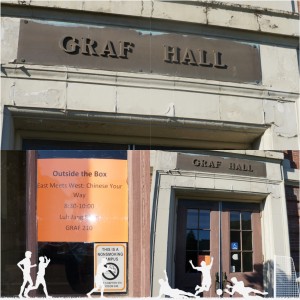 學生安安靜靜的學習書法。The first day of Outside the Box Chinese began with an introduction to Chinese calligraphy by showing the methodology of the stroke sequence followed by student practice. As the students developed basic familiarization with the brush and the shape of each stroke they moved on to writing full characters. The students then wrote their Chinese name on rice paper which will be ready to mount during the next class session.