Buying A Pair of Shoes (A)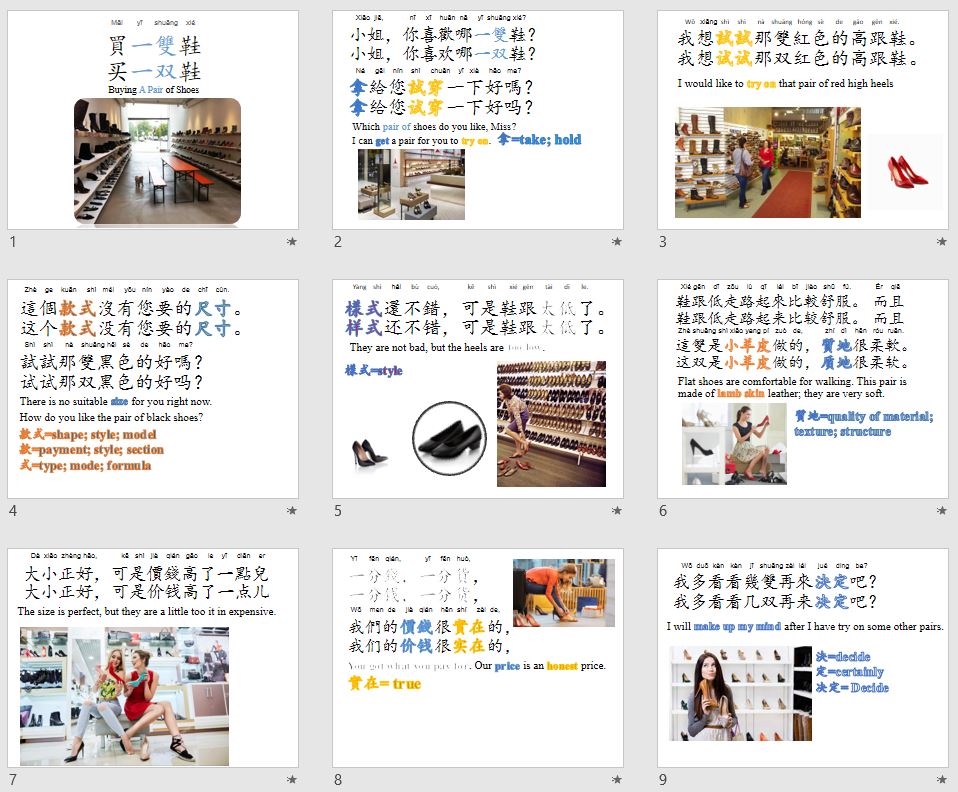 買一雙鞋Buying A Pair of Shoes
小姐,你喜歡哪一雙鞋? 拿給您試穿一下好嗎?
Which pair of shoes do you like, Miss? I can get a pair for you to try on.
我想試試那雙紅色的高跟鞋。
I would like to try on that pair of red high heels
這個款式沒有您要的尺寸。 試試那雙黑色的好嗎?
There is no suitable size for you right now. How do you like the pair of black shoes?
樣式還不錯,可是鞋跟太低了。
They are not bad, but the heels are too low.
鞋跟低走路起來比較舒服。 而且這雙是小羊皮做的,
質地很柔軟。
Flat shoes are comfortable for walking. This pair is made of lamb skin leather; they are very soft.
大小正好,可是價錢高了一點兒
The size is perfect, but they are a little too it in expensive.
一分錢,一分貨,我們的價錢很實在的,
You got what you pay for. Our price is an honest price.
我多看看幾雙再來決定吧?
I will make up my mind after I have try on some other pairs.